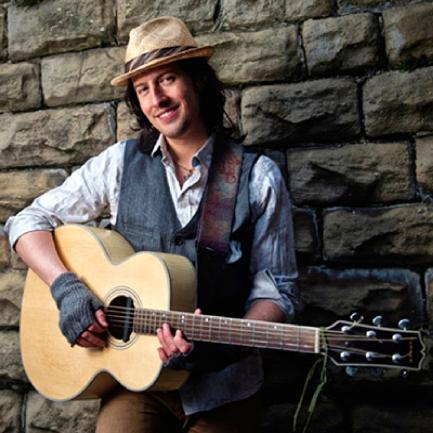 Performing music has been my daily calling for nearly seven years now, come hail or uncharacteristic British shine. It is both my lifeblood and my livelihood!

Lately, I've been focussing increasingly on writing, recording and transforming my own stories into songs. It's fair to say, I haven't led a linear life and don't intend to anytime soon. I'll try to give you a sense of what I'm about.

I love the interplay between words and melody. Great lyrics mean just as much to me as a fantastic tune, sometimes more. Following in the footsteps of the old storytelling musicians, I would like to appeal to people's intelligence and their hidden depths. I don't want to just perform to a crowd, there's something in the human spirit that is universal - this longing we share to be understood and to understand; when my guitar is in gear, that's what I'm driving towards. THE BEGINNING I was born in Liverpool, but spent much of my childhood in Paraguay, South America as the son of Christian missionaries and have been on the move ever since. At the end of my patchy school career (Which I will skim over for brevity's sake) I ended up at University. It was the end of fresher's week. I needed a part time job but was not having much luck. I became discouraged. After drowning my sorrows with cheap Bulgarian wine I took my guitar out onto the streets of Durham, which is where I was studying at the time. Within moments I was surrounded with drunks, derelicts and merry-makers and after one hour my guitar case was heavy with mucky coins.

It took a few more years of sales jobs in dreary northern call centres, car insurance sales and many other places before I decided to dedicate myself full-time to the making of music in public. It has been an incredible adventure and privilege for me these last few years to perform on the streets of England and beyond. It's not always easy playing on the streets. You have to deal with the prejudices of people who assume that you have nowhere else to be, when it fact you're playing because there is nowhere else you'd rather be. You also have to confront the fact that many local authorities take a dim view of street culture and try to make life difficult for buskers. That's why I started the Association of Street Artists and Performers (ASAP!) and have spent the last year campaigning for public spaces that are open and allow a sense of community to emerge. Visit our website on http://streetslive.org/ to find out more.

So may I give a humble and hearty thank you to everyone who walks past smiling and gives me their ear, and sometimes their small change too. Without you, I couldn't do what I love. My debut EP has now been launched and I hope that you get the chance to listen to what I have been writing and that we meet again soon whether on a street corner or a concert hall, somewhere in Great Britain or the big wide world without borders. I love playing music. You encounter people from all walks of life. It is raw and it is real. I will never tire of it. I hope to see you soon,
Until such a time,

God bless. Jonny
Jonny Walker Acoustic folk rocker, singer-songwriter, sometime balladeer, occasional poet...